With his thriving broadcasting career and multiple ventures, Ryan Seacrest is at the forefront of the media and entertainment industry.
Originally from Atlanta, GA, Seacrest's professional career in broadcasting began at the age of 16 when he applied for an internship at one of Atlanta's top radio stations, WSTR-STAR 94. While working at STAR 94, he finished high school and went on to attend the University of Georgia, where he majored in journalism.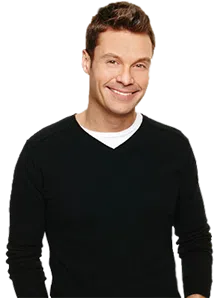 B-100 presents American Top 40 with Ryan Seacrest!  Join Hollywood's hottest host, Ryan Seacrest, as he counts down the American Top 40, Saturdays from 4 'til 8pm, and Sundays from Noon 'til 4.  The best songs, and the most exclusive interviews with the artists themselves as they drop by Ryan's studio, plus news and gossip you'll hear nowhere else.  American Top 40, with Ryan Seacrest…brought to you by The Ruby Room, 265 Victoria Street.  Today's Hit Music, B-100.